Barre & More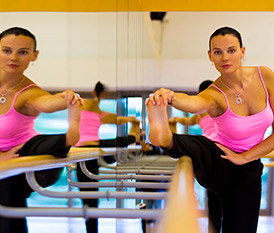 The Barre & More workout combines yoga, pilates and ballet barre conditioning to reshape your body through muscle isolation exercises.
Utilizing a ballet barre, controlled movements, interval training, and stretches after each major muscle worked, you will experience greater flexibility, increased strength, and visible results no matter what your fitness level.
It is designed to rev your metabolism, burn fat, improve your posture and flexibility. The end result produces tightened, sculpted, elongated muscles that create a beautiful lean body. It is a low impact class making it safe for all levels of fitness.
Benefits:
• Shapes and tones muscles without adding excess bulk
• Increases cardiovascular fitness and stamina
• Challenges coordination and balance, and enhances posture
• Creates longer, leaner, and more flexible muscles
• Heightens body awareness and inspires a mind-body connection
• Provides a low impact workout and arm and leg weight work ideal for those with early onset osteopenia or osteoporosis.
• Allows you to customize your workout level with an assortment of light hand weights, balls, and exercise bands
• Is offered in an efficient 45-55 minute full body workout
• Serves as a great stress reliever