Small Group Training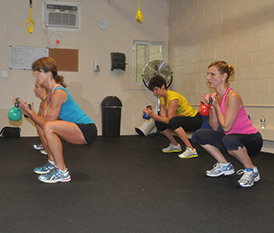 If you're seeing the results you desire by going at it alone, rarely use your gym, or just need a kick-start to your "same old" routine, Small Group Training could be just the thing you need.
Benefits of Small Group Training
COST: If one-on-one personal training packages are a little much for your budget right now, Small Group Training provides an attractive alternative. At around $20-30 a session (depending on number of people), they are less than half the cost of a one-on-one personal training session.
ACCOUNTABILITY AND ADHERENCE: You have the added benefit of accountability from your trainer and your fitness buddies. No more making excuses to yourself and not staying consistent you're your exercise program.
MOTIVATION AND CAMARADERIE: There is something to be said about working out with a group of people just like you. When everyone is working hard doing their best and having fun, there's an abundance of positive energy. You will become more inspired and find yourself looking forward to the workouts each and every day!
SUPPORT: You get built in support when you're part of our Small Group Training. Once again, the benefit of this should not be taken lightly. Support is an integral component for success in seeing results with a fitness or weight loss program.
PERSONALIZED ATTENTION: With our Small Group Training, you still receive hands-on instruction with your form and technique. It's the perfect blend of personalized instruction with group motivation!
Remember, having a personal trainer doesn't have to be a lifelong commitment. Even four sessions a month may be enough for you to start a fitness routine that you can ultimately continue on your own.
Rates: See Pricing page.